Videotapes
Modern Reflections can turn your collection of videotapes into digital media you can enjoy on a computer or DVD player. With our video editing programs we can separate different events filmed on the same tape and remove blank or glitchy parts of the video.
Take a walk down memory lane with your old home videos! Our digital files are great for sharing with friends and family. Pop in the DVD for movie night, or share clips on social media!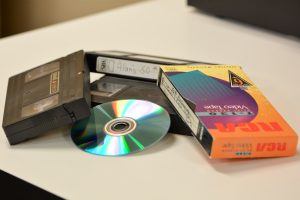 Reel Film
Is your closet full of boxes of old 8mm, Super8, 16mm, or even 35mm film movies – but you can't watch them because the projector doesn't work anymore? Bring those movies to us and we will convert old into new in the format of your choice. If the film has been damaged in any way, we may be able to arrange for some restoration. You will be able to enjoy your footage on a computer or DVD player and share clips online.
Audio Transfer
We can also convert your old audio media, such as cassette tapes or vinyl records, to digital form for storage on a CD or USB drive. These files are great for listening on a computer, iPod, or smart phone and can be copied and shared around to family and friends.